Curriculum Vitae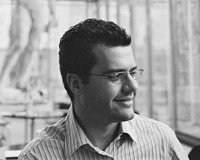 The music of Aristides Strongylis is very narrative and in close dialogue with other arts such as literature, theater, dance, and painting. Critics describe it as energetic, immediate, expressive.
His works have been performed in major venues such as Athens' Megaron, the Leipzig Gewandhaus, the Munich Gasteig, Konzerthaus Berlin, as well as in Austria, Switzerland, France, Spain, and recently also in the US.
Strongylis has composed pieces for Tatjana Masurenko, the ensemble amarcord, Hatto Beyerle, for the broadcaster MDR Kultur, for Vladimir Jurowski and Leonidas Kavakos.
The Gewandhaus at Leipzig has commissioned Aristides to write a piece for large orches­tra, marking its 275th anniversary season. It was premiered by the orchestra under Andris Nelsons on March 3rd, 2018.
Among his special interests is his award-winning compo­sitorial work with children. He teaches composition at schools, at innovative workshops and in internatio­nal projects, which has won him awards like "Kinder zum Olymp" and "junge ohren", among others. Within this, he's been co­ope­ra­ting close­ly with the Leipzig opera and Gewandhaus, the IFF Institut Hanover, the forum thoma­num as well as orga­ni­za­tions in the UK and Bosnia Herce­govi­na. Since 2018, he has been teaching at the Institute for Music Pedagogy of the Leipzig conservatory.
Aristides Strongylis was born in Athens (Greece) in 1974. He studied guitar and music theory in his home town and composition at the Leipzig Music Conservatory "Felix Mendelssohn Bartholdy" with Siegfried Thiele and Dimitri Terzakis. Master classes and encounters with composers like Jonathan Harvey, Peter Eötvös and Kaija Saariaho have greatly inspired his work. Strongylis is a member of the German and the Greek Composers' Union. His works are being published by Edition Gravis, Berlin.