Welcome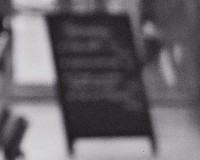 to the website of Greek composer Aristides Strongylis. On the home page you find current news on works, perfor­man­ces, and projects. You can get an over­view about his work from CV and list of works or learn more about his projects. The sound page offers extracts of works, high-re­so­lu­tion pic­tures for down­load can be found on the photo page. Of course you can also get in touch with the composer himself. For questions on the web­site, please contact the web­master.
November 10 :: Premiere of "Adonai! Kyrie! Lord! Herr!" :: Leipzig Synagogal Choir
Commissioned by Reinhard Riedel, Aristides composed a piece for the Leipzig Synagogalchor based on Psalm 92, praising the Lord. The work entitlel "Adonai! Kyrie! Lord! Herr!" (the Lord's praise in Hebrew, Greek, English and German) will be premiered on November 10, 2019, in a service commemorating the November pogroms of 1938. November 10, Leipzig Church of St. Thomas, 6pm, free entrance, doors open at 5:15pm.
November 9 :: Musica Viva at J.S. Bach Conservatoire
The chamber orchestra Musica Viva invites the audience to its anniversary concert at the Kurt-Masur-Concert hall of J.S. Bach Conservatory Leipzig. The orchestra will perform Beethoven's Coriolan Ouverture, Mozart's 21st piano concerto in C Major, and Haydn's 99th symphony in B flat Major. Solo piano Prof. Frank Peter, direction Aristides Strongylis.
May & June 2019 :: Premiere of PNOE :: Commissioned by MDR Klassik
The piece entitled PNOE, commissioned by broadcaster MDR Klassik, is premiered in a school tour by MDR symphony orchestra under Leipzig University musical director David Timm. Each school class gets its own part within the orchestra, partly composed and partly improvised. Classes from several Saxon cities were involved in this project.
Watch the short and lively video with MDR broadcaster.
Beethoven Experiment :: Classroom goes Gewandhaus
In an experimental project by broadcaster MDR's Clara Network, school children from Saxony will perform their own composition at the Leipzig Gewandhaus concert hall with the MDR Symphony Orchestra. For three months, the students will compose and rehearse their own piece of music with Aristides, playing Orff instruments and accompanying the orchestra's work until the premiere at the Leipzig Gewandhaus under Kerem Hasan on January 26, 2020.
More at the website of MDR broadcaster (German).
:: Directing Chamber Orchestra Musica Viva ::
Since December 2018, Aristides has been directing the chamber orchestra Musica Viva. The lay orchestra of 25 members meets weekly at the Leipzig Buddehaus (Thu 8:30pm-10pm). On March 16, a first concerts performance took place, featuring works by Rossini, Grieg, Bizet and Isaac Albeniz. In fall 2019, the 25th anniversary of the orchestra will be celebreated with a big concert. Stay tuned for more!
New members welcome: Musica Viva's website.
May 23rd :: KLANGRADAR :: National Competition of netzwerk junge ohren
Within the project Klangradar (sound radar) by network junge ohren, Aristides is directing a compositorial workshop, this year taking place on a national scale for the first time. In the 5th grade of Leipzig's Montessori school center, 26 students of music teacher Klaudia Löffler will work on their own sound scapes with Aristides. On May 23rd, the results will be performed in Berlin with four other schools. The audience can look forward to experimental sounds and amazing community compositions!
May 12 :: Premiere of KlangWerkRaum :: Gewandhaus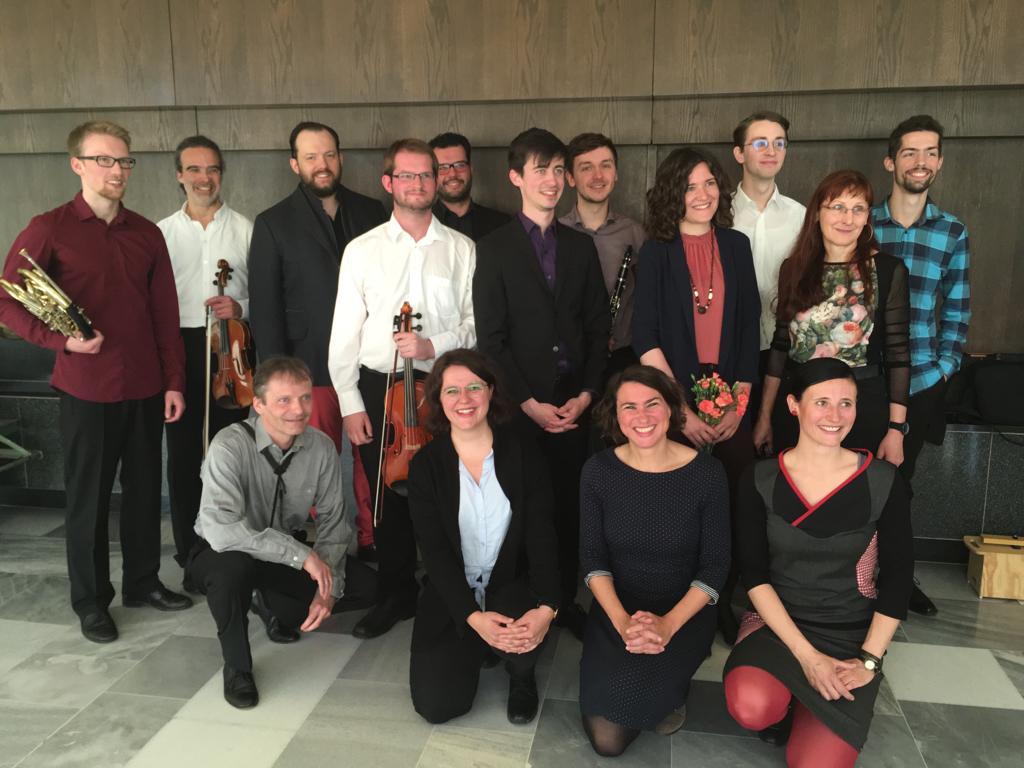 A new format in musical outreach is happening at the Leipzig Gewandhaus this season. The workshop called KlangWerkRaum includes musical enthusiasts from ages 18 to 99 who try their talents at composing music! The three resulting pieces of music are premiered on May 12 at the Gewandhaus by seven participants and three Gewandhaus musicians, right after Bruckner's fifth symphony at around 11am. A short presentatio nof the project will follow at 12.30pm (In the photo: KlangWerkRaum members and Maestro Andris Nelsons).
March 2019 :: Invent Your Own Music :: Bildungscampus forum thomanum
This compositorial workshop for children and young music enthusiasts ages 9 to 19 will take place from March 15 to 17, 2019 (for the fifth time!). Professional musicians and composers will introduce the children to composing their own music. In several workshops, ideas and musical sketches will be sung, discussed, modified and re-interpreted. The participants will learn technical details and how to develop a musical composition - this time for soprano, baritone, bass clarinet and piano.
Youtube Channel
Aristides' Youtube channel features works, concerts and projects. You can even subscribe to the channel and keep up with all the news. Come visit!
Mentoring program of the Leipzig University of Music and Theatre
The Leipzig University of Music and Theatre has started a mentoring program, m-Arts, offering students individual coaching to enhance their professional careers, including a workshop program. Within this program, Aristides will mentor the pianist, composer and répétiteuse Elena Postumi this year.
Music goes graphic in Saxony-Anhalt
To introduce children playfully to the world of musical composition is the goal of workshops under supervision of Aristides and Su­sanne Zeh-Voß at the Pestalozzi elementary school in Zschorne­witz and the elementary school Prinzess Ilse at Isenburg/ Harz. Pupils could first hear and see, then improvise and design how graphic art may sound and how music can be notated graphically. More on the project by Musika­lisches Kom­petenz­zentrum Sachsen-Anhalt in the project's bro­chure (German, pdf).
Note: concerts and news of previous years can be found in the → archive